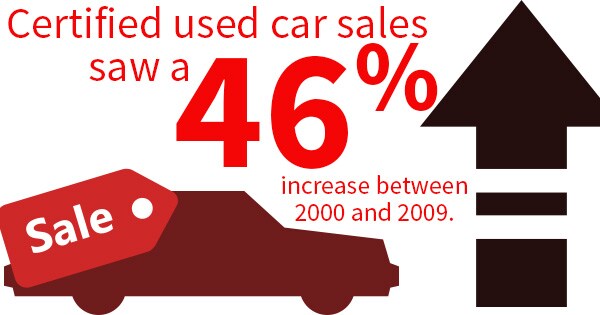 Buying a used car is a popular option among car shoppers who need a vehicle but don't have the funds to shell out on a new car. In fact, used car sales increased by 5% between 2012 and 2013, according to the 2013 Manheim's Used Car Market Report. While the lower price of used cars is an obvious advantage, some car shoppers worry that they are sacrificing quality for cost. This concern has given rise to a new trend among used car dealers: certified pre-owned vehicles (CPO).
Certified used car dealers sell pre-owned vehicles that are backed by the original manufacturer's warranty. According to Edmunds.com, certified used car sales saw a 46% increase between 2000 and 2009. Some of the reasons that make certified pre-owned vehicles the best used cars to purchase include:


More Affordable - One great thing about used cars from certified used car dealers is that they are still much cheaper than buying a new vehicle. While CPOs can cost $1,000 to $3,000 more than the average, non-certified used car, this is due to refurbishments and extended warranties. So while customers are paying a little extra, they are also getting more than they would with a used car that isn't certified.



More Reliable - In order to earn the title of "certified pre-owned," a vehicle must pass rigorous inspections by the original manufacturer of the car. When mechanics find issues during a used car inspection, they either fix them or do not certify the car. Once a vehicle passes inspection, it is backed by a manufacturer warranty for a certain number of years or miles. Car shoppers can feel more confident about the safety and reliability of these used vehicles since the manufacturer has put its seal of approval on the car.



New Car Benefits - Another bonus of buying a used car from certified used car dealers is that these customers often get many of the same benefits as new car owners. This includes vehicle maintenance plans, roadside assistance and maintenance at the dealership itself. Certified used car dealerships want to do what they can to keep their customers happy in order to build a long-lasting relationship with these customers. Therefore, they are often willing to go the extra mile for those who purchase a CPO.
Buying a used car from a dealer can save you money, but it doesn't leave you with the peace of mind of a new car. Certified pre-owned vehicles give car buyers the benefits of a new car at a used car price.