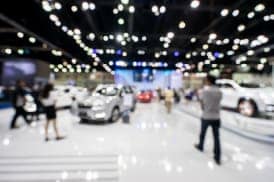 Detroit has long been associated with automobile manufacturing in America and the 2019 North American International Auto Show is calling the "Motor City" home through the end of January 2019. During these two weeks, visitors will have a chance to check out some of the latest models from manufacturers who know the cultural and economic significance of this auto show. Subaru, which is certainly a brand on the minds of American car-shoppers, has pulled out all the stops for this year's gathering in Detroit. According to The Detroit News, the STI S209 "will prove a hard competitor to beat" when stacked up against other offerings at the show. Since Subaru dealers in Oklahoma will have some of the other latest models -- both new and used -- available in the coming year, now's the time to get up-to-speed on what Subaru has planned for both the Detroit auto show and the offerings at your local dealership.
Per The Detroit News, the "beating heart" of the S209 is the "2.5-liter turbocharged boxer engine." That boxer engine, with its horizontally-opposed cylinders, is a Subaru staple and gives every model a punchy and responsive feel from under the hood. It's one of the reasons why car-shoppers have sought out Subaru dealers in Oklahoma or in their respective home states; a boxer motor in a car is a rare thing to see and a beautiful thing to behold. Other mechanical aspects that will make this new offering a must-have among gearheads include "high-spinning turbocharger and strengthened pistons and connecting rods."
We recognize, however, that not every shopper visiting Subaru dealers in Oklahoma is after a car that harkens back to the company's rally racing routes. They want an Outback, Ascent or Forester that provides ample room for family and storage – and that's fine, too. The all-wheel-drive 2019 Outback, for example, comes standard with seating for five, a rear trunk, brake-assist, exterior rear parking camera and pre-collision braking mitigation among a slew of other safety and comfort features that driver and passenger alike will appreciate.
The annual North American International Auto Show is an opportunity for manufacturers to put their latest and greatest in display. Subaru has clearly done that and its debut of a much-sought-after limited-editor vehicle is indicative of two things: Shoppers are Subaru's priority and bringing a previously-unavailable car state-side means that the company is in-tune with what the car-buying public wants. Just make sure to visit Subaru dealers in Oklahoma to get in the driver's seat.