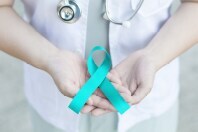 To truly become part of the community, a business needs to weave itself into the local fabric. This is what Hudiburg Subaru has done through a long-standing partnership with Tenaciously Teal, an Oklahoma City-based non-profit support group that offers various forms of assistance to patients fighting cancer. While Hudiburg's bread and butter may be the latest Subaru car models, there are more ways to give back to neighbors than supplying them with new cars and SUVs. This is where the support for Tenaciously Teal (T. Teal) comes into play.
Founded by Tarah Warren, who was diagnosed with stage IV ovarian cancer in 2012 and would beat the disease following treatment, T. Teal's objective is to provide "love, community, and empowerment to cancer fighters in the midst of treatment." Since its founding, the non-profit has delivered thousands of care packages to cancer patients both in Oklahoma and across the U.S. The contents of those care packages run the gamut, as there's no single set way to help someone during what's likely to be the darkest period of their lives.
Warren "began distributing care pack and gas cards in the chemo room after seeing many who lacked resources and support during their fight with cancer," according to the group's website.
As one of Oklahoma City's most-recognizable businesses, Hudiburg Subaru has been able to assist T. Teal in its mission and couldn't be prouder of the work that Warren, a Hudiburg customer, is doing for the local community. According to a 2018 article from The Journal Record, Hudiburg's general manager said that the dealership is "especially proud to be able to help others who are battling cancer." This most-recent example of assistance came in the form of a $7,000 donation that will go toward T. Teal's mission of giving resources to those in treatment who often do not have the time, energy or resources to concentrate on such efforts. Previous contributions by Hudiburg Subaru -- where the latest Subaru car models in OKC can be found -- to this hometown charity include construction 200 care packages, which is a mission that hits to close to home for employees with family who've been diagnosed with cancer.
"Our team at Hudiburg Subaru is extremely proud to be a sponsor of Tenaciously Teal," according to the dealership's website, which is also brimming with Subaru car models for 2019. "Our goal is to spread this message to as many people as possible."
These are just some of the reasons why the dealership was awarded Subaru's "2018 Subaru Love Promise Customer Commitment Award." The recognition is reserved for dealerships that "demonstrate excellence in all areas of customer-focused performance. It highlights exceptional customer service that builds lifelong relationships with Subaru owners."