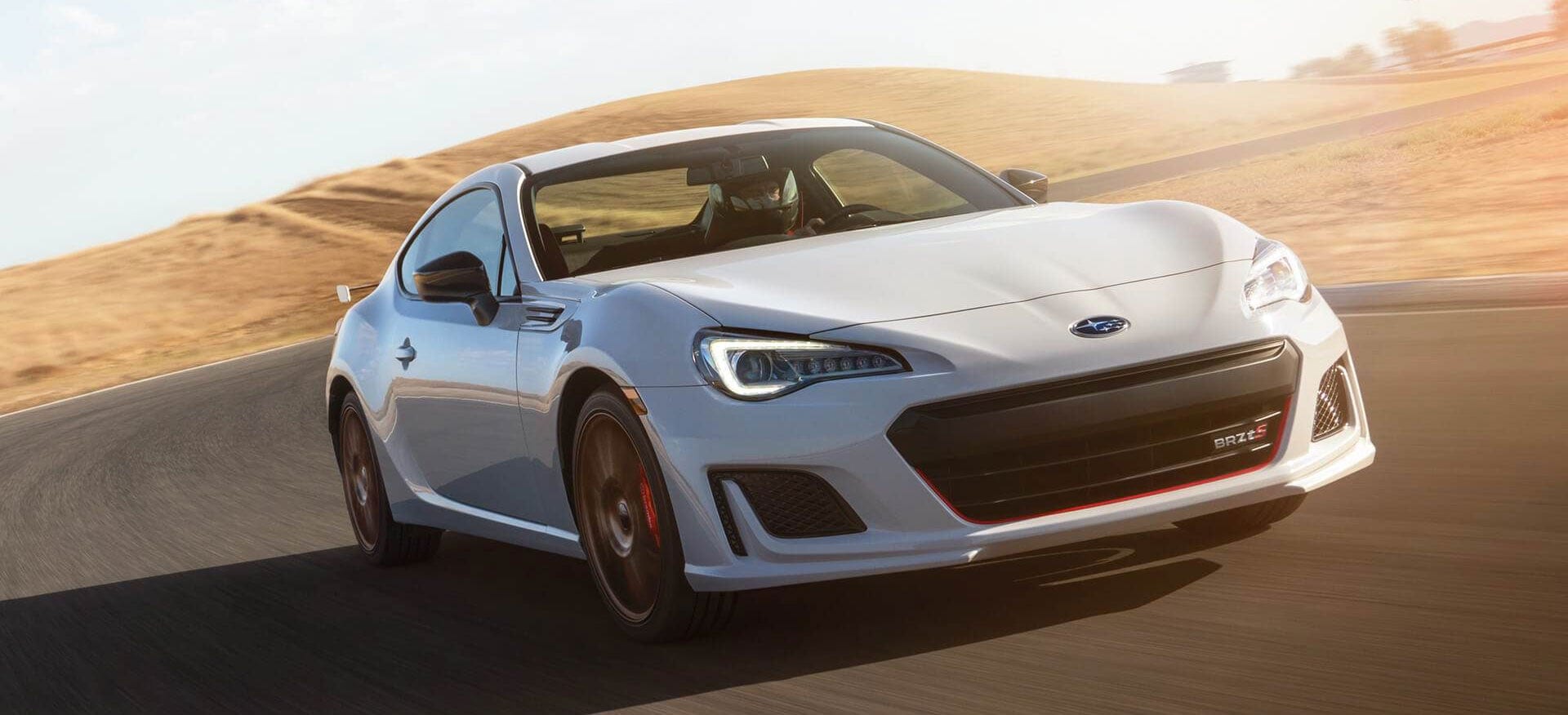 The New 2020 Subaru BRZ
is one of Car and Driver's top-rated compact sports cars thanks to it being both fun to drive and practical. Are you looking for a car that's equally at home driving across town or cruising down a winding mountain road and wondering "Should I buy a 2020 Subaru BRZ?" We're here to help answer that question. Let's take a look at why the BRZ is so highly-rated.
2020 Subaru BRZ Performance
Let's be honest - most people who buy a compact sports car are looking for performance and looks above most other features. These types of cars need to be fun to drive.
The 2020 Subaru BRZ gives you a great driving experience. The 2.0-liter Subaru BOXER 4-cylinder engine delivers 205 horsepower and 156 lb-ft of torque when coupled with the 6-speed manual transmission and 200HP and 151 lb-ft with the automatic. As a result, the BRZ turns in a respectable 6.2 second 0-to-60 MPH time. But the BRZ isn't over-powered like some sports cars. It's easy to control and equally enjoyable for the novice or experienced sports car owner.
BRZ Handling
Power is important for a sports car but handling is just as important, if not more so. If a sports car doesn't handle well, it won't be very fun to drive and could even be dangerous in the wrong hands. Handling is one spot where the BRZ really shines. The quick-ratio steering coupled with the sport-tuned suspension helps you keep it under control on winding roads and through the turns.
The BOXER engine gives the BRZ a low center of gravity, which also contributes to its excellent handling. The BRZ's Vehicle Stability Control (VSC) system comes standard on all models and offers a Track Mode that stiffens things up a bit to give you more precise handling control. But with the standard mode, the VSC system still provides a comfortable suspension for daily driving.
Subaru BRZ Interior
The 2020 BRZ has space for 4 occupants, with rear seats that will fold down to create more storage space. The seats have leather-trimmed upholstery and the front seats are heated. The BRZ includes a dual-zone climate control system along with keyless entry and a push-button start.
Subaru's STARLINK touchscreen system is standard. STARLINK includes support for both Apple CarPlay and Android Auto. While the STARLINK system uses a touchscreen, most of the BRZ's controls use easy-to-operate physical knobs and buttons to reduce distraction while you're driving.
Storage
People don't buy sports cars for the storage they offer, but that doesn't mean you won't want to pack some gear occasionally. That could be several bags of groceries or it could be a set of wheels and tires to swap on at the track.
The BRZ offers 6.9 cubic feet of storage in the trunk, which is plenty for day-to-day use. But if you need to pack some extra gear in now and then, the rear seats fold down. And yes, with the seats down there's plenty of space for that set of track wheels.
2020 Subaru BRZ Safety
Compact sports cars are inherently less safe than larger vehicles like full-size SUVs. They have more power and less vehicle around you to absorb crash impacts and other dangers. Despite the fact the BRZ is a very capable sports car, Subaru doesn't cut any corners on safety.
The 2020 Subaru BRZ received a 4-star crash test rating from the National Highway Traffic Safety Administration (NHTSA). The NHTSA also gave it a 5-star rollover test rating. Sports cars sit lower to the ground than many larger types of vehicles so it can be more difficult to see things behind you. The BRZ includes a standard rearview camera system to improve rear visibility. Features like these are one of the reasons that Subaru drivers consistently rate it as one of the most trusted brands on the road.
BRZ Trim Levels
The 2020 BRZ comes in two trim levels:
Both are very capable sports cars but the tS adds a few tweaks to make it even more fun.
BRZ Limited
The BRZ Limited comes standard with a limited-slip differential and sport-tuned suspension for the best possible handling. Keyless access and push-button start are also standard features, along with leather/Alcantara trimmed seats. The Limited gives you the option of a 6-speed manual or automatic transmission. The automatic adds paddle shifters on the steering wheel for an authentic track-car experience.
BRZ tS
The tS model, which stands for Tuned by STI (Subaru Tecnica International), adds several performance features for the ultimate driving experience. The STI-developed sport suspension offers even better handling. When paired with the tS model's 18-inch alloy wheels and stickier tires, it takes the handling to another level.
The tS also adds a Brembo performance braking system to ensure you can reign it in when needed.
The 6-speed manual transmission is the only transmission option on the BRZ tS. A lot of manufacturers are gradually phasing out manual transmission options across their lines so it's good to see Subaru sticking with it.
Should I Buy a 2020 Subaru BRZ?
Hopefully we've helped you find the answer to the question, "Should I buy a 2020 Subaru BRZ?" If you're in the market for an affordable compact sports car that's equally fun to drive on remote mountain roads and around town every day, the BRZ is the perfect choice.
And if you're looking for a Subaru dealer in Oklahoma City,
Hudiburg Subaru
is ready to help you find the perfect vehicle. Our customer review show why we're the best Subaru dealer in OK. Check out our current inventory of the Subaru BRZ and
contact us
today to arrange a test drive. Our team of experts is here to answer any questions you might have.
Sorry, no items matching your request were found.
Reset Search