The 2021 Subaru Love Promise Customer and Community Commitment Award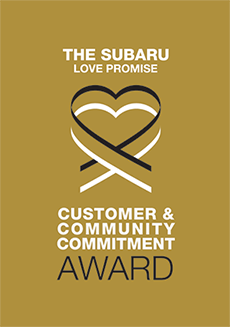 We've been nationally recognized for our dedication to our customers, our community, and the Subaru Love Promise.
We're honored to receive the 2021 Subaru Love Promise Customer and Community Commitment Award. This award nationally recognizes elite Subaru retailers who provide an exceptional customer experience at every interaction with Subaru. These retailers have also demonstrated an outstanding commitment to supporting passions and causes in their local communities in important areas such as the environment, community, health, education, and pets.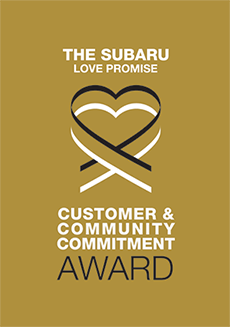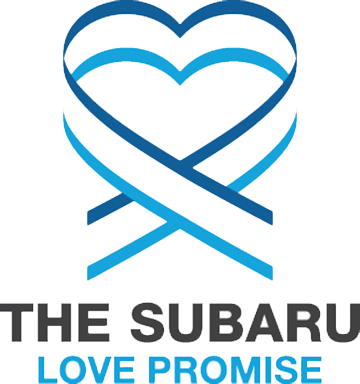 What is the Subaru Love Promise?
Subaru and our retailers believe in making the world a better place and the Subaru Love Promise is our vision of respecting all people. This is our commitment to show love and respect to our customers and to work to make a positive impact in the world.
How is Hudiburg Subaru dedicated locally to the Love Promise?
Our Love Promise can be seen in various partnerships with local charities and non-profits. We're grateful for the opportunity, not only to be a part of our community, but to serve it as well.
Central Oklahoma Humane Society
Oklahoma City Boat House Foundation, Myriad Botanical Gardens
Oklahoma City Chamber Of Commerce, Norman Chamber Of Commerce
Tenaciously Teal, Childrens Hospital Foundation, American Heart Association, LLS of Oklahoma
Love Promise Stories from Hudiburg Subaru
Subaru and Hudiburg Subaru believe in making a positive impact on the communities in which we live and work. We uphold that belief through our Love Promise Community Commitment. Every month, we select inspiring stories from customers and partners from around our area who strive to support our collective commitment and feature them here
Ironman Patricia Rosen- A Love Promise Story - Robert A
This is a Subaru Love Promise Story about Patricia Rosen who is one of the Worlds best Ironman Competitors for her age. She is heading to Tulsa Oklahoma when her Car breaks down on the side of the highway. She's frantic for help when she calls Hudiburg Subaru in Oklahoma City. Luckily she meets some very wonderful people who drop everything to help her.
---
A Couple's Year of "Firsts" During Pandemic - Rachel F
Hudiburg Subaru sponsored an October "Subar-BOO" Adoption Event with the Oklahoma Humane Society, subsidizing adoption fees to half price. They even put some Subarus on display at the OK Humane Adoption Center during the event. A volunteer photographer and OK Humane staffers set up a mini photo shoot featuring some adoptable puppies in the trunk of one of the Subarus during the event. Little 9 wk old Trixie was a sleepy, yet adorable car model and was quickly spotted by a young couple waiting outside in the line to meet the available dogs. When it was their time to have a dog concierge introduce them to all dogs, they instantly gravitated toward Trixie. The couple had just bought their first home earlier in the year and was looking to adopt their very first pet together. Trixie's sweet demeanor won their hearts, and she's now forever a part of the young couple's story of "firsts". Their story is especially touching in a year where life milestones have been particularly difficult for people to celebrate. Trixie's addition to this young family is certain to bring joy and help them create many happy memories as they are beginning their new life together.
---
Oklahoma Humane Sociey Subar-Boo Adoption Event - robert a
Thank you to the Oklahoma Humane Society for allowing us to sponsor and be a part of the Subar-Boo Adoption Event. The event was a huge success. It helped find 58 dogs and cats with their forever home.
---
The Story about Pizza Dog - Robert A
Pizza Dog became a huge part of the Hudiburg Subaru family and we are so happy he found his happy forever home!!
---
HUDIBURG SUBARU - Robert R
My Family has purchased 12 New Subarus from Hudiburg Subaru Starting with former, & hopefully returning soon salesman Paco. Currently working with Nathan & Ryne & Paula from Finance. This is the best combo for leaving happy in a new Subaru. It's a very simple process. I tell Nathan what I want and he finds it. Ryne tells me how the car works and discusses options to find what is most important as far as accessories so that I feel equipped for what I need the car for. Paula & I catch up on current events in the world and with family and then we make a deal after she find the best possible scenario regarding credit an the loan. I drive away happy. Then repeat it's that simple. As long as that sales and finance team is working at this dealership it will be my only dealership. Currently the family has 2-2020 Ascents, (touring) 2-2020 Outbacks touring & onyx , a 2020 Forester Sport, 2016 BRZ,& my daily and favorite a 2018 STI slick top. So find the Subaru that is right for you and go to Hudiburg.
---
Helping Through Love, Kindness, and Attention - Tarah W
Tenaciously Teal (T. Teal) has been blessed to have the support of our friend's at Hudiburg Subaru. I was a Hudiburg customer long before the dealership began supporting T. Teal, a nonprofit near and dear to my heart. Through the entire car buying process the dealership provided exceptional service, and I told my husband then that I would be a Hudiburg Subaru customer for life. The core of Tenaciously Teal's mission has always been to help those in need, while providing, love, community and empowerment to cancer fighters. In 2014, that mission grew to include our Board Designated Fund, established to meet the extenuating financial needs of those fighting cancer who had been unable to receive support elsewhere. Over the years, this fund has assisted fighters with items such as utility bills, hotel stays, medical equipment, and even a therapy dog for an adolescent cancer fighter. Through the generous support from Hudiburg Subaru's Share The Love event we have been able to double the Board Designated Fund the last two years. This month, the fund stepped up to support Jeanette with some basic needs that can be out of reach for many cancer fighters. We received a referral from a hospital social worker for Jeanette, who had been placed on palliative care, or end of life care, to keep her comfortable during the final leg of her fight with cancer. The social worker from the cancer center had requested assistance purchasing a mattress for a hospital bed for Jeanette and stated the hospital bed was being delivered to the patients' home by Jeanette's case manager.Upon further investigation we learned that the case manager had not ordered a hospital bed and the wait time would be at least sixty days for the next free one to become available. Jeanette didn't have 60 days of suffering left in her. She was sleeping on a tiny couch downstairs because she was too weak to make it upstairs to where her bedroom and only bathroom were located.Our Board of Directors jumped into action and approved the rental of a hospital bed, which was delivered the same day. Jeanette wept when she received the bed and expressed how much pain she had been in from awkwardly sleeping on the love seat that was not nearly long enough for her tall frame. Through conversation, we learned she also had a need for adult diapers, bed pads, and medication for bed sores. She also only had one pair of pajamas that were stained and had holes in them from so much wear. Thankfully we were able to help provide supplies to Jeanette as well as a couple new pairs of pajamas and, of course, a few comfy T. Teal shirts. Furthermore, when asked if there was anything else we might be able to help her with she said, "If I had some fresh fruit to make a smoothie that would make me so happy".Since Jeanette does not have a car it is a six hour round trip via multiple buses to get the groceries and supplies she can afford on her disability income. Jeanette a large supply of fresh and frozen fruit as well as a blender to make smoothies. Jeanette agreed that her story should be shared as an example of the many cancer fighters whose needs continually fall through the cracks. Hurdles such as income level and lack of knowledge regarding the medical system can create difficulty for fighters to advocate for themselves. On behalf of Jeanette and the men and women T. Teal continues to support, I want to say thank you for giving us the opportunity to help them in a tangible way when they had nowhere else to turn, and more importantly, giving us the opportunity to be an advocate for those who need an ally. Your support helped Jeanette's suffering be a little more manageable through some love, kindness, and attention. Thank you Hudiburg Subaru!
---
Caps For Chemo - Robert A
Listen to John share his story of his battle with Cancer and how it lead to him helping others going through the same battle. John took something as small as a water bottle cap and turned it into Hope. Feel free to drop off your water bottle caps on the showroom of Hudiburg Subaru.
---
Moore Love - Robert A
We are so proud to support Moore Love who directly supports these amazing fundraisers that help students in the Moore School district. -Regional Food Bank: Moore Love works with the Oklahoma Regional Food Bank to provide much needed food items for our Backpack for Kids program with feeds approximately 700 of our elementary students during the evening and weekends. -Soonerthon: (Children's Hospital), is a group of University of Oklahoma student-leaders who raise funds throughout the year for the Children's Hospital. -Moore Faith Medical Clinic: This is a free health clinic with the Moore community that provides medical attention to individuals who may not have insurance or financial means for healing. -Ally's House: This organization was established in 2004 and has provided financial support to families dealing with pediatric cancer. #hudiburghelps #sharethelove
---
Hudiburg Subaru Loves To Care! - Sara M
Hudiburg Subaru Loves to Care! OU Medical Center Adult Oncology. On July 10, 2019 – John Houston, Matt Pringle, and Amanda Boykin of Hudiburg Subaru met Sara Mason, LLS Senior Campaign Manager and Kristi Colclasure, LLS Campaign Manager at the OU Medical Center in Oklahoma City, Oklahoma to meet with adult oncology patients to bring warmth, love and hope to those affected by blood cancers. Hudiburg Subaru of Oklahoma City loves to support their local community through the Subaru Loves to Care program – focused on making a difference, in partnership with the LLS-Oklahoma Chapter. John Houston was especially excited to be a part of the Subaru Loves to Care blanket delivery, he is a Delivery Specialist at Hudiburg Subaru and is a lymphoma survivor. Houston told LLS, "For the longest time I thought that MS was one of the worst things that I could have even been diagnosed with, I was wrong. In August of 2016 I noticed a spot on the inside of my left arm near my elbow. Two weeks later I saw my doctor and they did a biopsy, which showed I had a rare and aggressive form of lymphoma. I was terrified and thought my world was crashing in around me. As a single parent I was extremely concerned for my children." John completed a full course of radiation treatment for his lymphoma. After numerous follow up appointments, John's oncologists and dermatologists confirmed that he was all clear of his cancer. "Now I just see the Dermatologist once a year and will not see the Oncologist unless it's needed and I hope it never is. I am extremely grateful that my lymphoma presented itself where it did. It humbles me that Subaru is such an active supporter of LLS and the support it provides to others. I am a proud employee of Hudiburg Subaru and very happy to be part of the Subaru family." John Houston, Delivery Specialist, Hudiburg Subaru. The Hudiburg Subaru and LLS Teams were joined by Michele Abbitt, Adult Oncology Manager who had set up seven in-room visits with patients currently battling blood cancer. The team passed out the blankets, message of hope cards from Hudiburg Subaru customers throughout the community and the LLS "Here to Help" palm cards. The palm cards were also placed within the patient areas and shared with all information desks on the Oncology Floor so that patients and their families can learn about the information, educational and support services that LLS provides. It truly was a great way to let patients know that Hudiburg Subaru and people in their community, who they don't even know, support them and are sending wishes of hope, strength and courage as they battle blood cancer.
---
American Heart Association Heart Walk - Greg M
Hudiburg Subaru was proud to be a part of the American Heart Association Heart Walk this year! We sponsored the Doggie Hydration Station and provided water, leashes, dog toys, ceramic food and water bowls, and treats. #sharethelove #subarulovespets #hudiburgsubaru
---
Tenaciously Teals Care packs and Cocktails - Greg M
Subaru of America, Inc. and Hudiburg Subaru together donated $26,480 through local customers that chose Tenaciously Teal as their charity of choice during Subaru's Share The Love community partner program. When purchasing their new Subaru at Hudiburg Subaru, customers had a choice to have Subaru of America and Hudiburg Subaru donate on their behalf to 1 of 4 national charities or our own TENACIOUSLY TEAL! Tenaciously Teal raised over 80% of the available funds. The check was presented at the charity's 4th annual Care Packs & Cocktails event at The Criterion in Bricktown on April 19th. This outstanding event featured a fashion show of cancer fighters and survivors from all different ages and backgrounds that lit up the night with their courage and tenacity. Live music, wonderful appetizers, and cocktails completed an outstanding evening for all. Tenaciously Teal raised nearly $100,000 that night. Founder Tarah Warren provides incredible support and resources for those battling and who have battled this terrible disease. Hudiburg Subaru is proud to support such a wonderful person who lives her life to make others more comfortable. Tarah, we are honored to support you and the amazing work you do for so many Oklahomans!
---
Oklahoma Humane society vaccination event - Greg M
A huge thank you to the Central Oklahoma Humane Society for offering low-cost vaccinations and microchipping at Hudiburg Subaru last Saturday, and thank you to all the pet owners who joined us in the rain! We saw an amazing turnout and met some great dogs.
---
Toys for Tots donations - John H
For Christmas 2018 we partnered with Toys for Tots here in Oklahoma City. We opened our doors to be a donation location. We had an over abundance of toys dropped off and we are overjoyed to be able to facilitate this worthwhile organization.
---
Book donation at Roosevelt Elementary - John H
During our Subaru Love Learning Event we choose a local school, Roosevelt Elementary as the recipient of our book donations. Our donation included 90 books to a random third grade classroom. We love this time of year as it gives us the opportunity to invest in the children future.
---
Tenaciously Teal care bag party - Tarah W
With our home town charity, Tenaciously Teal, we got together with customers and employees alike to assemble care bags. Tarah donates these care bags to cancer patients that are fighting cancer through chemotherapy all over the state of Oklahoma.
---
Tenatiously Teal Charity - Tarah W
Our team at Hudiburg Subaru is extremely proud to be a sponsor of Tenaciously Teal. Over the years they have distributed thousands of care packages to cancer patients across Oklahoma. We recently held a care package assembly event where we constructed around 200 care packages to be sent out to those in need of support during their treatment. This charity strikes close to home as there are employees that are cancer survivors as well. Our goal is to spread this message to as many people as possible.
---
LLS & Subaru Love to Care - Libby K
It was a day of celebration and laughter as employees from Hudiburg Subaru and staff from the Oklahoma Chapter of The Leukemia & Lymphoma Society delivered blankets, craft kits and care cards to patients at OU Medical Center in Oklahoma City. Subaru employees were able to interact with patients currently in treatment while delivering blankets and brought smiles to their faces as they shared the inspirational words from their customers. The patients were inspired by the messages of love and hope left by Subaru employees at the Hudiburg location. The execution of this partnership made a real impact in the lives of patients currently in treatment.
---
Subaru and NWF Love the Earth - April B
We have planted our beautiful donated garden! Thank you so much for the generous gift.
---
Hudiburg Subaru Partners with Central OK Humane Society For Adoption Events - Sue D
Central OK Humane Society has been partnered with Hudiburg Subaru for on site adoption events for the Last three years. Over 400 pets have found new homes and new families thru these on site adoption events. Hudiburg Subaru is proud to sponsor Central Ok Humane Society . We look forward to many years of Partnership with this great organization and to find Homes for these wonderful animals, to bring smiles and Love to great Families and to Share the Love with our community.
---