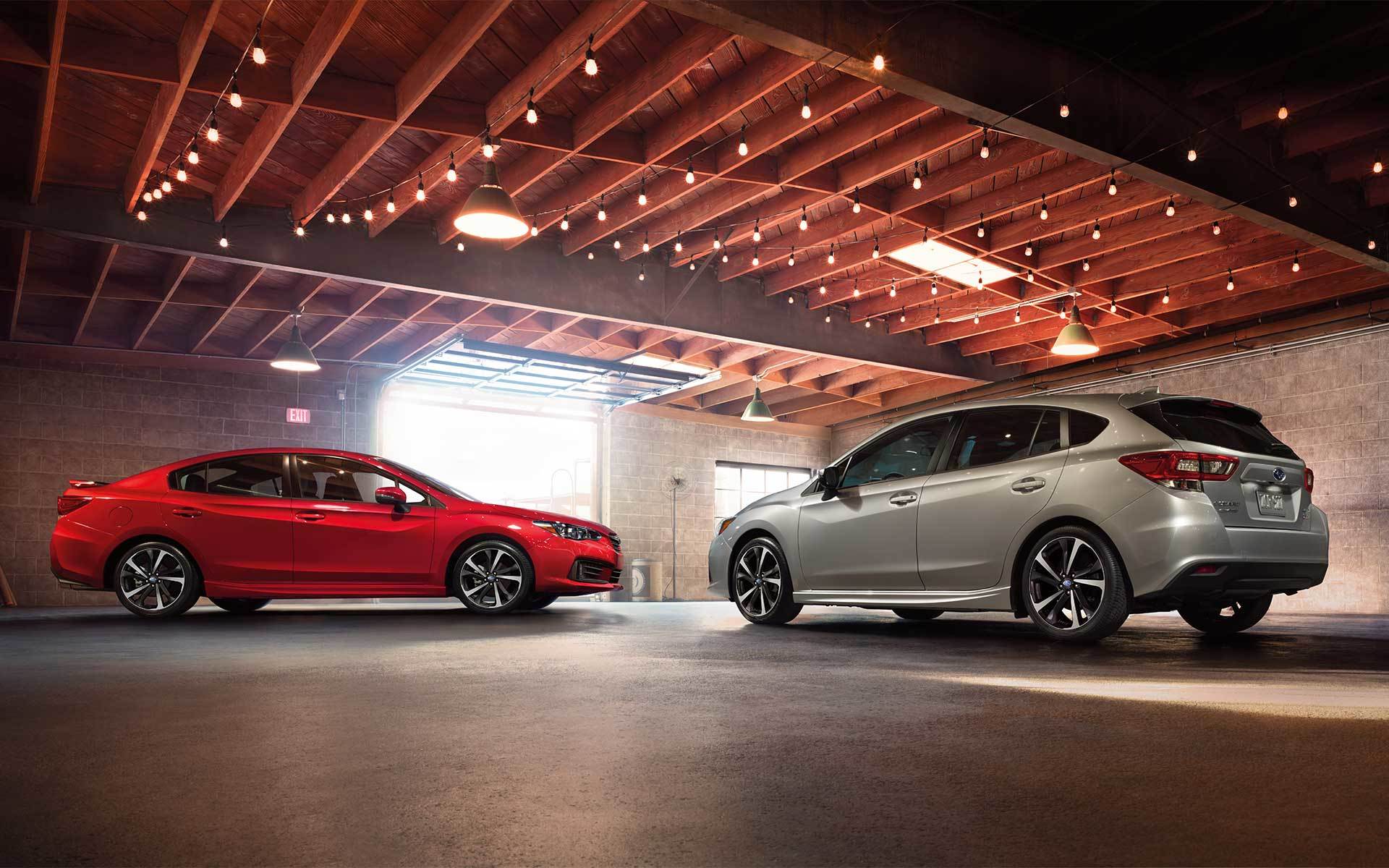 The New 2020 Subaru Impreza
is one of the Insurance Institute for Highway Safety's (IIHS), top safety picks - It's also one of the longest-lasting vehicles in its class and the Kelley Blue Book rates it as having the best resale value in its class for 2020. Let's look at what's new for the 2020 model and why it's such a good choice for your next vehicle.
Impreza Trim Levels for 2020
2020 is the fourth year of the current generation of Impreza, which means it's a more significant change than many years would be - the 2020 Impreza comes in four trim levels:
1. Base
2. Premium
3. Sport
4. Limited
Each model is available as a sedan or a 5-door hatchback.


Standard and Optional Features
All 2020 Imprezas come standard with Subaru Symmetrical all-wheel drive (AWD). The Symmetrical AWD system is one of the biggest factors in Subaru's excellent safety rating. It's not intended for off-road use but for road driving, it helps you stay in control in all types of road conditions. All 2020 Impreza models also include Android Auto and Apple CarPlay as standard options, even on the base level sound system.


Powertrain
The Impreza is powered by a 2.0-liter 4-cylinder Subaru Boxer engine that produces 152 horsepower and 145 foot-pounds of torque. The Boxer engines is another big selling point with the Impreza as it provides up to 36 highway MPG and more than 450 miles from a single tank of gas.


Transmission
The all-new 2020 Subaru Impreza offers two transmission options - a 5-speed manual and a continuous variable transmission (CVT). The 5-speed is standard on the base models and Sport hatchback, with the CVT available as an option. The CVT automatic comes standard on all other models in the 2020 lineup. On the Premium and higher models, the CVT also includes a 7-speed manual mode with paddle shifters.


What's New for the 2020 Model Year?
There are several new features on the new Subaru Impreza. The biggest change for 2020 is the inclusion of Subaru's EyeSight safety package on all models with the CVT transmission.


EyeSight Safety Package Features
EyeSight is a dual color camera system that's placed near the rearview mirror. These cameras scan the road ahead continuously, providing several safety features that help make the Impreza one of the safest vehicles on the road. The cameras monitor traffic movement to help optimize cruise control speeds. Once you set the cruise control to be a certain distance from the vehicle in front of you, EyeSight's throttle management will automatically adjust your speed to maintain a safe distance.
EyeSight will also you if you start to drift out of your lane and its pre-collision braking feature can apply full-force brakes in an emergency to avoid rear-end collisions. IIHS reports the EyeSight pre-collision braking can reduce injuries caused by rear-end crashes by as much as 85 percent.

Exterior Changes for 2020
The front grille and bumper have been completely redesigned on the new model and the 2020 Subaru Impreza Hatchback also includes a redesigned rear light design. The all-new 2020 Subaru Impreza also adds a new color option, Ocean Blue Pearl.


Interior Changes for 2020
The all-new 2020 Subaru Impreza comes with automatic door locks with a collision-detect unlock feature. It also includes a rear set reminder that reminds you to check the rear seat when exiting the vehicle. This feature may seem unnecessary, but it is shocking how often you read stories about someone who forgot there was a child or pet in the backseat. That reminder every time you exit the vehicle only needs to do its job once to make it priceless.


Model-Specific Changes for 2020
There are a few changes to specific models in the Impreza lineup as well. The CVT transmission has been added as the standard option on the Sport sedan, where it was an optional upgrade on the 2019 model. The 5-speed is the option on the 2020 sedan. The Sport Hatchback 5-door model still includes the 5-speed as its standard transmission, with the CVT as an option.
The Sport sedan and Unlimited models include Subaru's SI-Drive powertrain management system as a standard feature in 2020 as well. SI-Drive lets you switch the driving profile between Sport and Intelligent modes.
Intelligent mode offers a smoother driving experience while Sport mode tunes the throttle and shift characteristics for a sportier driving experience. Finally, the Limited models include blind-spot detection and rear cross-traffic alert as standard features for 2020.


Hudiburg Subaru is here for you
Hudiburg Subaru is a family-owned and operated dealership that has been helping clients in our area for many years. Our experienced, knowledgeable staff are here to help you find the best vehicle for your needs.  We've got a great selection of 2020 Imprezas in stock so you can test drive the different models to see how they compare and which one is the best fit for your lifestyle.
Contact us
today to set up an appointment to come in and see the all-new 2020 Subaru Imprezas we've got on the lot.